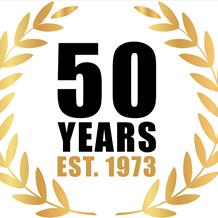 Celebrating 50 Years of Davlyn Construction Limited
04 May 2023
We're extremely proud to announce we will be celebrating 50 years in business this year which is an incredible milestone to achieve in any industry. Founded in 1973, the company has gone from strength to strength with a steady, controlled growth over the years to be a major force in the UK construction industry of today.
The Director's at the Company said: "Looking back over the last 50 years we have witnessed so many incredible moments from the various types and values of projects that were undertaken in the 70's and 80's, to the sometimes complex multi-million pound projects that have contributed to our controlled growth. To be a part of the company which has managed to retain the family values and ethos from when David and Marilyn Charles first established the company back in the day is very heart warming.
"At Davlyn Construction Limited we have a fantastic team of talented individuals – celebrating our 50th year anniversary is an opportunity to acknowledge their achievements and to thank our sub-contractors, suppliers and clients for our continued success. Here's to the next 50 years and as a company we're excited to see where the next generation will take the company to".
We will be celebrating throughout the course of the year but most significantly we will be having a "50th Party Bash" in Darley Abbey Mills where our first premises were located.